Explainer videos hit the nerve of the time. Because with them, even complex issues can be conveyed in a playful way. With modern explainer video software, they are ready for use in a flash.
Just a few years ago, the production of an explainer video was extremely tedious: With sophisticated high-end software such as Adobe After Effects, you quickly spent an entire day until the first usable results were visible.
Fortunately, these times are over, because now there are a variety of interesting tools with which you can produce respectable explanatory videos with a few mouse clicks. Thanks to a steep learning curve, even if you've never done it before.
We have tested five particularly interesting tools for you.
Explainer video software: 5 tools in test
At first glance, the tested explainer video tools all seem very similar. They have a handful of features in common:
Predefined templates, backgrounds, and characters.
Editable text and graphics
Audio dubbing with music and voice
Upload your own graphics and sounds
Numerous differences only become apparent in practical use. Especially when videos are to be produced for content marketing. Example: Only a few tools have features for placing call-to-actions.
1. Vyond (previously GoAnimate)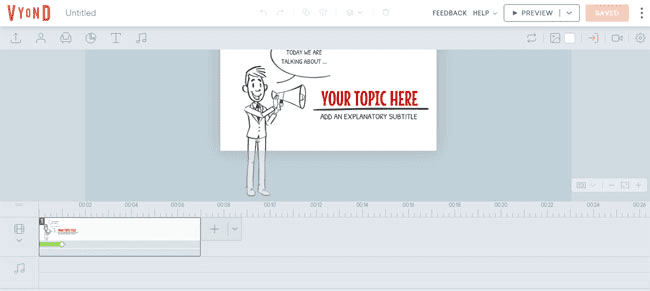 The animation tool Vyond, formerly known as GoAnimate, has been on the market for over 10 years. After registration, it is available to users free of charge for 14 days. However, it is unfortunately not possible to download produced videos during the test phase. The cost for the basic license of Vyond ("Essential") is US$49 per month.
The features
Characters: With the help of different poses, moods, and movements, they are given life
Props: For each theme, the appropriate illustrations
Text: Handwriting, speech bubbles, and text boxes are used to visualize text
Charts: Use pie charts, bar charts, or line charts to convey your message.
Audio: To underlay the videos with music or sound effects (e.g. animal noises)
Download: Videos can be downloaded in 720p and 1080p Full HD as well as GIF animations.
Vyond offers users a particularly comprehensive feature set compared to the other tools tested. For example, fade-in effects, colors, and sizes of the elements can be customized with the help of an editor.
2. Powtoon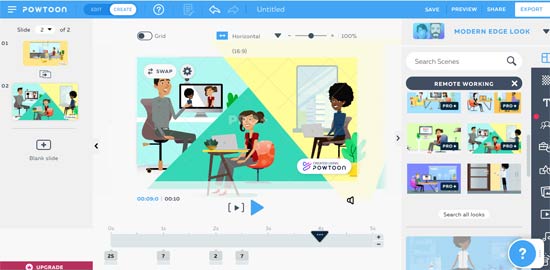 Powtoon offers marketers a particularly comprehensive explainer video software. Since 2012, over 45 million explainer videos have already been produced worldwide with this tool. The freemium version offers users essential functionalities free of charge. If you want even more features, you can pay US$19 per month.
The Features
Scenes: There is the right template for every occasion.
example: Intros
Backgrounds: Backgrounds can be exchanged and inserted into any template.
Example: Abstract backgrounds
Text: 10 possibilities for text insertion are offered
Example: Type
Specials: Special themes find their place here
Example: Winter Holidays
Voiceover: Professional speakers can be booked for a fee
Download: Videos can be downloaded as MP4 files, PDFs, or PowerPoint
Export: Direct upload to Facebook and YouTube is possible
Sharing function: Via Twitter, Linkedln, and e-mail the video is shared with just one click
Powtoon is by far the tool with the most features. Still, characters, props, shapes, sounds, and graphics don't stand out much. The available elements are found in almost the same form in all tested tools.
3. VideoScribe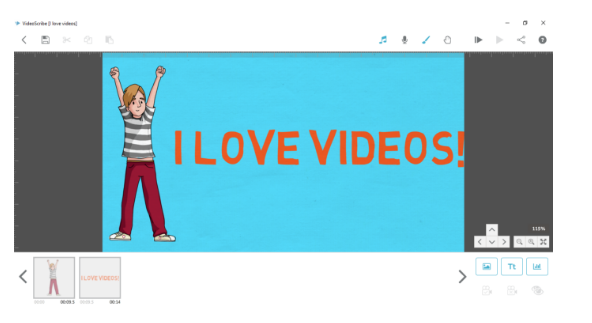 VideoScribe is the only one of the tested tools that do not run directly in the browser. The Adobe Flash-based software can be downloaded as an app instead. A free trial is available to users for seven days. After that, VideoScribe can be used to create explainer videos for $40 per month.
The Features
Background: selection of the color and structure of the entire video
Image: Users can choose images from 12 categories
Chart: Pie, bar, or line charts for the presentation of data
Sound: many soundtracks are available for dubbing with music
Voiceover: Record and upload your own files
Export: Direct export of the video to Facebook and YouTube is possible
Important must-have features are undoubtedly available. However, since the tool focuses on the whiteboard style, users have significantly fewer functions available than with the other tools tested.
4. Wideo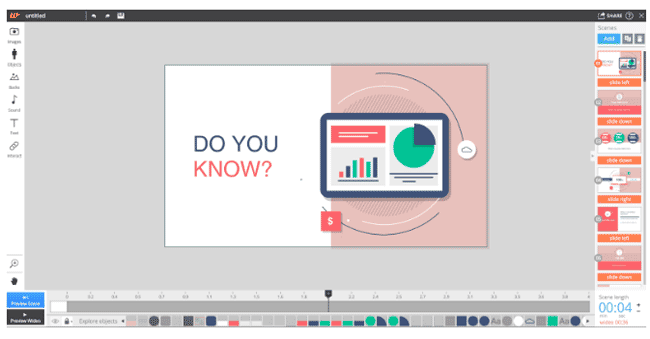 Wideo can do much more than just conjure up explainer videos. The comprehensive animation tool offers users probably the largest selection of templates of all the tools tested. To its full extent, Wideo can be tested for seven days free of charge. From US$19 per month, users can use it without restrictions.
The Features
Objects: Selection of icons, 3D objects, shapes, etc.
Backs: selection of backgrounds
Sound: upload music or audio file
Text: Insert and edit a text field
Download: Videos can be downloaded as an MP4 files
Export: Direct export to YouTube, Twitter, and Facebook available
Wideo limits itself to the most important features. Above all, users have to make restrictions when uploading their own graphics. Here, the other tested tools clearly stand out.
5. Animaker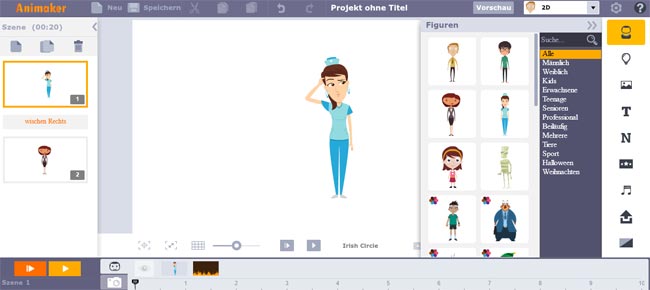 With Animaker, 720 different animated videos can be produced from a total of 6 video formats. That is significantly more than all other tested explainer video tools have to offer. After registering via email, Google or Facebook, the tool is available to users free of charge. However, this version has limited usability for users. For example, only videos with a length of up to two minutes can be produced. If you want to use the entire feature set, the monthly fee starts at US$12.
The Features
Figures: Users have a large selection of figures at their disposal. After choosing you can edit your character with the character settings.
Properties: Under properties, you can find any kind of graphic
Background: Images or colors can be used as backgrounds
Text: Individual text or ready-made templates can be used
Numbers: Numbers can be displayed in different ways (e.g. pie chart)
Special effects: Special effects for the entire background or individual elements can be used to breathe life into your sequences.
Music: A wide selection of background music and sound effects is available to users. There is also the option to upload or record your own audio.
Upload: Images, music, or voice recordings can be uploaded and processed
Transition effects: Transition effects can be placed between individual sequences
The feature set is similar to that of any common explainer video software. Nevertheless, Animaker stands out with a few special features. First and foremost is the ability to produce more than just conventional explainer videos.
Conclusion
Each of the tested tools is ideally suited for the production of explainer videos. They are all convinced with an enormous range of features.
For use in content marketing, I recommend Animaker. Not least because of the useful features, the product stands out. The freemium version is especially attractive. With it, you get (limited) access to the explainer video software without any obligations. In addition, Animaker is characterized by an attractive price-performance ratio. Try it yourself! There are hardly any limits to your creativity!